SMALL PLASTIC WITH BEST HYGIENE
This handy tool can lift or lower the toilet seat without touching the toilet seat, effectively protecting your hands from bacteria easily , especially in public places, you can use this toilet cover lifter to open the toilet lid when the toilet is dirty.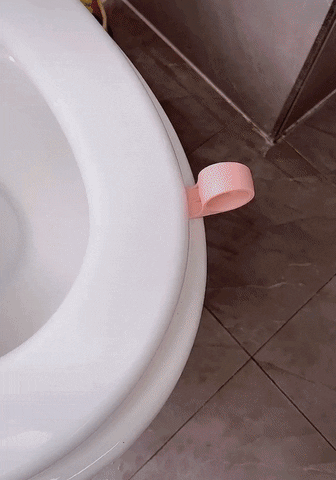 UNIVERSAL APPLICATION
Hygienic Toilet Lid Lifter is designed in minimalist form with perfect human ergonomics. It fits all types of Toilet Lid & fits every finger sizes. Multiple colors to choose and suit your bathroom and toilet theme ! 
FEATURES
High quality ABS material, thick and durable humanized design

No need to touch the toilet lid directly with your hands. Just lift the handle to open it. It is hygienic and intimate, convenient and labor-saving.

When the capper is not enough for the depth of the toilet, two pieces of double-sided tape can be superimposed for various toilet types.

Easy to install. Easy to use, stick the 3M sticker and use it

Minimalist form with perfect human ergonomics
Fits all types of Toilet Lid
Fits every finger sizes
SPECIFICATIONS:
Material: Hard ABS Plastic
Packing: opp bag
Weight: 12 g
Size: 9 * 2 cm
Color:

White / Light Blue / Dark Blue / Pink
PACKAGE:
2 * Hygienic Toilet Lid Lifter (Comes in a pair)
OR
4 Colour in 1 (SUPERSAVER)